Preventative AC Maintenance Near San Francisco, CA
Routine service is often overlooked, but it's one of the best things you can do to keep your ac system in good working order. Regular AC maintenance from Cabrillo will save you money in the long run by helping prevent major breakdowns and keeping your system running to its maximum lifespan. It also offers you the greatest value by protecting your investment from preventable issues that come from neglecting crucial components.
Our expert AC team services all makes, models, and brands in and around San Francisco to help you enjoy maximum comfort and savings.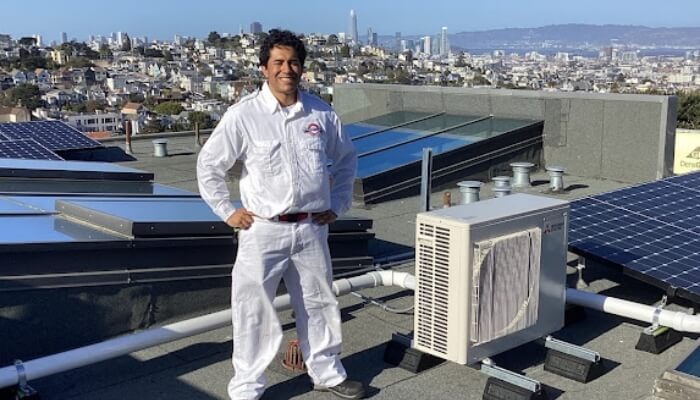 Investing in Seasonal Maintenance Helps You Save
Your AC system is a major investment, and you deserve to have it last as long as possible. Maintenance helps extend your air conditioner's lifespan by identifying and fixing minor issues before they become major repairs. Inspection and tune-ups also increase efficiency and lower your utility bills by ensuring your AC is always running at peak efficiency.
Your system should be serviced and maintained once a year, in the spring or early summer, to ensure it's ready to run as frequently as you need it.
What our technicians do during a maintenance visit:
Check the system for leaks, repair them, and recharge the system if needed.
Check the compressor, fan, and other system components for proper operation.
Check airflow, air temperature, and air quality at the vents.
Check the air filters for dirt, debris, and clogging and replace them if needed.
It's important to take care of your air conditioner, especially before you're most likely to use it. Catching small problems early on gives enough time to ensure a repair is implemented or a new system is installed if the unit is beyond repair. Our technicians are expertly trained to know exactly what to look for to provide you with confidence going into the warmer months that you'll have cooling when you need it.
Simplify Service With a Maintenance Plan
Remembering to schedule maintenance before AC services are in high demand shouldn't be something you have to worry about. Our HVAC maintenance plan makes your tune-up easy with annual inspections you don't have to think twice about. You'll also enjoy priority scheduling, discounted repairs, and more. Call our team 24/7 at 415-360-0560 to learn more about how maintenance helps you save and to schedule your appointment today!