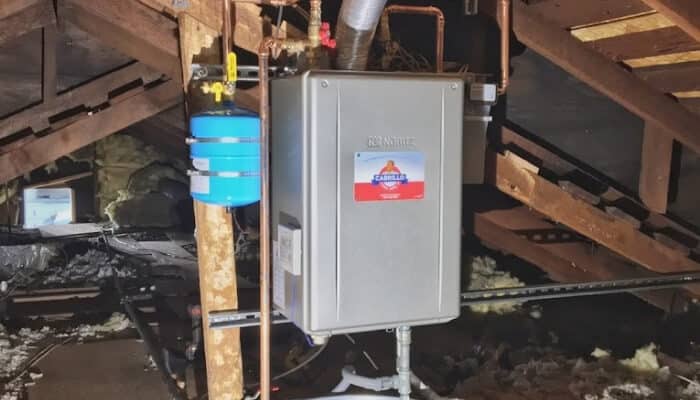 A Hassle-Free Guide to Maintaining Your Tankless Water Heater
Tankless water heaters are an increasingly popular option for homeowners in the San Francisco, CA, area. These long-lasting, space-saving units can be a major upgrade in energy efficiency to help cut costs without compromising comfort. When you make the switch to tankless, you want your investment to last as long as possible. Cabrillo is here to help you understand tankless water heater maintenance to extend the lifespan of your equipment and increase efficiency. 
The Brilliance of Tankless Water Heaters
Traditional tank-style water heaters store hot water that's used as needed. When the water supply runs out, it must refill and reheat the tank. Tankless water heaters, on the other hand, heat water on demand. This means an endless supply of hot water everywhere you need it: for showering, washing dishes, doing laundry and more.
Tankless models consume less energy by only heating water as needed rather than constantly replenishing a tank. Bay Area homeowners can enjoy greater efficiency and less waste, all while saving on utility costs.
The Key Upkeep Tasks for Tankless Water Heaters
If you are deciding which hot water system is right for your home, you might ask, "What is the upkeep on a tankless water heater?" Here are a few important upkeep tasks and why they are so important.
Flushing the System
Why: Tankless water heaters come in constant contact with hot water and mineral deposits. Over time, minerals and sediment can build up and reduce efficiency or cause damage.
How: Some homeowners are comfortable flushing the water heater themselves. If you aren't sure, we recommend calling a licensed plumber to safely flush the water heater to remove the deposits. Flush systems annually or as recommended by the manufacturer.
Checking the Venting
Why: Proper venting ensures safe operation and efficient heating. Improper ventilation can lead to decreased efficiency, equipment breakdowns and carbon monoxide poisoning.
How: When you schedule an annual water heater inspection, your technician will check for proper ventilation and safety concerns. In between visits, you can check that the venting system is free of obstructions and corrosion. Be sure to call a plumber if you notice any damage to the unit.
Inspecting the Heat Exchanger
Why: The heat exchanger is responsible for heating water for your home. It is a critical component and any issues can lead to reduced performance.
How: Professional check the heat exchanger for corrosion, leaks and other damage during an annual water heater inspection. If you notice there is no hot water or intermittent hot water, leaking, visible water damage around the unit or escaping steam, there may be an issue with the heat exchanger that needs to be repaired.
Cleaning the Air Filter
Why: Water heater air filters keep bugs, dirt and debris out of the system. A clogged air filter can hinder airflow and reduce tankless water heater efficiency.
How: Some tankless units have air filters that need periodic cleaning or replacement. Most filters should be changed every six months but may vary by manufacturer. Changing the filter only takes a few minutes and is an easy way to ensure optimal performance.
Checking for Leaks
Why: Leaks can quickly lead to water damage and is usually a sign of an issue with internal components. There could be sediment buildup, improper venting, or loose connections for instance.
How: Regularly check for leaks and issues with water pressure. If you suspect or find a leak, call a licensed plumber to inspect the unit. Scheduling a repair or replacement as soon as you notice an issue will help further damage to the unit and your home.
Verifying the Gas Pressure
Why: Proper gas pressure is crucial for efficient heating. If the gas pressure is too high, the gas will flow too quickly and the unit may overheat and break down.
How: Because of the safety risks associated with incorrect gas pressure, we always recommend working with a professional. Your technician will measure the gas pressure and make adjustments as needed for optimal efficiency.
Scheduling an annual tankless water heater inspection with a licensed plumber is the easiest way to ensure your unit is working properly. They will check all water heating components, look for any safety hazards and tune up the system as needed. Annual services are also a great time to take care of any minor issues before they escalate.
Why Tankless Water Heater Upkeep Matters
Regular maintenance of your tankless water heater is more than just a best practice. It's key to keeping your unit running safely and efficiently for as long as possible.
Tankless water heater benefits include: 
Efficiency: Cleaning and inspecting the system helps maintain its efficiency, ensuring you get maximum energy savings.
Longevity: Proper maintenance can extend the tankless water heater's lifespan, protecting your investment and preventing breakdowns.
Safety: Routine checks can identify and address any safety concerns, such as gas leaks or venting issues.
Why Choose Cabrillo for Tankless Water Heater Upkeep
When it comes to home comfort, Cabrillo has you covered. We love serving the San Francisco Bay Area and we love helping homeowners find innovative ways to increase efficiency and savings.
Expertise: Our technicians are highly trained, licensed and experienced in servicing tankless water heaters. We understand the intricacies of these systems and can provide comprehensive maintenance services.
Reliability: Cabrillo has been a trusted name in plumbing, heating, and air conditioning for years. We build our reputation on reliability and professionalism.
Comprehensive Service: Beyond upkeep, we offer a range of services, from tankless water heater installation to emergency repairs. We're your one-stop solution for all your residential plumbing services and HVAC needs.
Customer-Centric Approach: We prioritize customer satisfaction. Our dedicated team delivers the highest quality service, ensuring you're completely satisfied with our work.
Cabrillo Has Your Tankless Water Heater Needs Covered
At Cabrillo, we understand the importance of tankless water heater upkeep. Our experienced technicians are equipped to provide comprehensive tankless water heater service, ensuring your unit continues to deliver energy-efficient, on-demand hot water. Contact us online today or call 415-360-0560 to schedule your tankless water heater maintenance appointment and keep your system running smoothly for years to come.