Sewer & Drain Line Camera Inspection Near San Francisco, CA
When your pipes develop a clog, the most effective clearing solution starts with locating the problem. Our plumbers utilize waterproof camera technology for the greatest accuracy in finding and getting rid of clogs for good. By taking the guesswork out of drain clearing and cleaning, you can get back to what matters in no time. Cabrillo will help get your water flowing again and charge by the job, not the hour, to provide the value you deserve in the San Francisco, CA, area.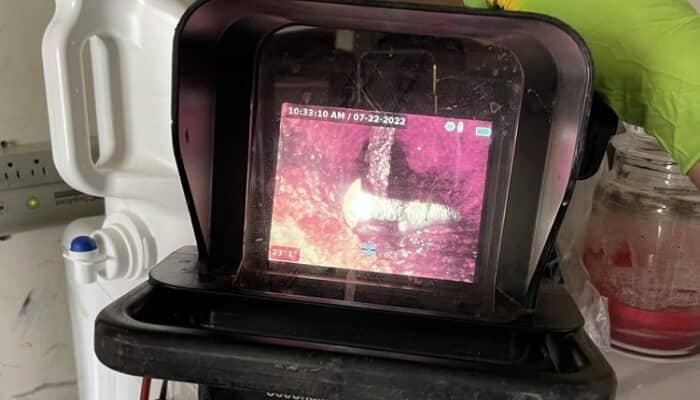 Rid Clogs & Blockages for Good, Safely
For stubborn blockages, DIY drain cleaners rarely get the job done. While they might offer a temporary solution, they usually do nothing more than move the clog down further in your plumbing network and corrode your pipes. When you choose Cabrillo, you'll have peace of mind knowing that we pinpoint the exact location of the clog and confirm when it's broken up and gone for good.
Starting with a camera inspection lets our technicians know the extent of the job so they can quickly get to work with the right solution, the first time. When combined with hydro jetting to clear the clog, your pipes are protected against hazardous chemicals and free to do their job effectively.
Benefits of sewer anddraincamera inspections include:
Faster and safer service without disturbing your property.
Greater accuracy in assessing and reaching the issue.
Flexibility to locate clogs and assess pipe health at varying depths.
When a drain clog stops your plumbing in its tracks, the problem can quickly lead to no running water, overflowing toilets, and standing water on your floor. We arrive at emergencies with fully-stocked vehicles and tools to solve the problem as quickly as possible and avoid damage to your plumbing and property.
Your Plumbing Technology Experts
Since 1961, we've been passionately serving San Francisco and the greater Bay Area with swift and innovative service. To provide you with the best service and experience possible, we stay on top of trends and adopt the most advanced and efficient plumbing technology.
The faster our plumbers get to the root of the problem, the faster they restore your comfort. With sewer and drain camera inspections, we help you enjoy greater comfort and convenience, every time. Dealing with a sewer clog or emergency? Give our team a call 24/7 at 415-360-0560 !