Ductless Air Conditioner Systems Near San Francisco, CA
Ductless mini-split air conditioners are becoming increasingly popular in California as our climate continues to warm. These more permanently installed appliances are easier to retrofit in older homes that are not ready for a typical ducted system. They are also a great option when a section of the home or a single room requires heating or cooling.
If you're adding on to your home or looking to upgrade the comfort in a specific area, ductless systems may be a great, affordable alternative to central air. Cabrillo will go over your home's specific requirements, help you find the right fit, and get your new cooling unit installed in no time.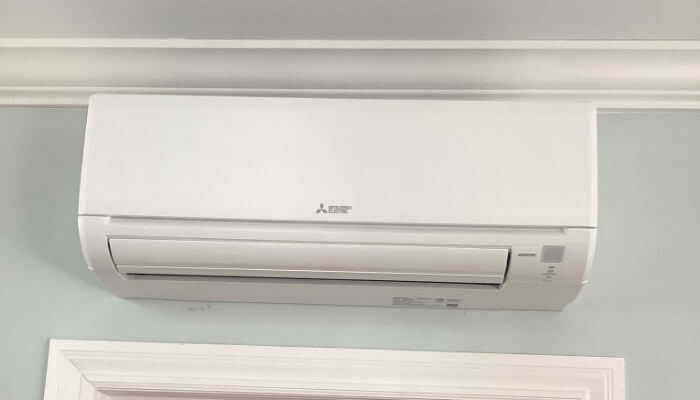 Advantages of a Mini-Split AC
Mini-split air conditioners are energy efficient, giving you total control over an individual room's temperature needs. They run ultra quiet and have multiple installation options to meet your home's requirements.
A mini split AC unit carries a number of advantages over a traditional air conditioning system:
They Cool And Heat: A mini-split AC isn't just for cooling things in the summer months. Newer models are super-efficient heaters as well.
Zoned Temperature Control: Some like it hot, and some like it cool. Mini-split ACs let you set the temperature on a room-by-room basis.
Energy Efficiency: Mini-splits are built to use the smallest amount of energy possible to reach your desired temperature.
Humidity Control: As if they don't already do enough, they can also help manage your home's humidity by pulling unnecessary moisture out of the air.
Professional Installation Equals Perfect Comfort
Mini-split air conditioners should always be installed by a professional. Cabrillo brings the experience and advanced installation methods that only a seasoned team provides. Proper installation determines how well the system operates, its life span, and noise levels. Our crew makes the process a breeze and ensures the end product is a positive addition to your home.
Just like any mechanical system, mini-split air conditioners require maintenance. The units inside the home do have a fan and filter system that needs to be cleaned to maintain maximum airflow. This task can be performed by the homeowner after reading the care manual with the indoor unit. Like typical air conditioners, mini-splits should be checked yearly for operation efficiencies, refrigerant charges, and normal wear and tear.
The Experts at Cabrillo Are Here to Help
In addition to installing a new mini-split AC, Cabrillo will assist you with a repair if you have an existing mini-split system that isn't running as it should be. When it comes to AC, our experts know - and do - it all. For any questions or service needs you have, give our team a call 24/7 at 415-360-0560 !