Air Duct Installation & Repair Near San Francisco
Your home's ductwork is largely out of sight, out of mind - until there's a problem. Cabrillo serves the San Francisco area with professional ductwork services that help you worry less about your home's efficiency and get back to what matters most.
We know the ins and outs of what makes Bay Area homes unique and we will ensure your new ductwork system complements the layout for optimized airflow. We air seal and repair air duct problems to prevent energy loss and improve comfort. No matter the project, our team is prepared to handle it.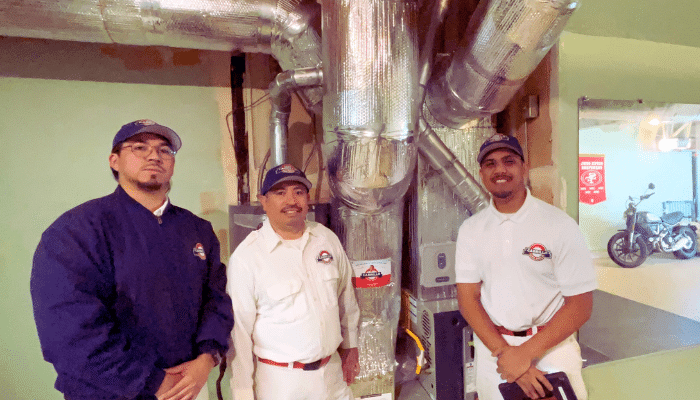 Ductwork Installation & Replacement
Replacing and installing new ductwork should always be handled by professionals. Working with a team of experts gives you the peace of mind that your home's air ducts are properly connected, sealed, and ready to keep your home comfortable and safe.
Our team has extensive experience installing and replacing HVAC equipment and will handle your new ductwork with care and attention to detail. San Francisco area homes are unique, and you need a team of skilled professionals to ensure the ductwork is designed to work with your home's layout and needs. 
Before the job is done, we check for any gaps and leaks that may impact performance. Professional air duct replacement from Cabrillo delivers the confidence you deserve that your new system is ready to deliver optimal heating and cooling year-round.
Ductwork Repair
Problems with air ducts impact your HVAC system's performance, the air quality in your home, and energy costs. If you notice any issues with your home's heating and cooling, it could be an issue with the ductwork. Working with a professional is the best way to diagnose and repair the problem.
Common ductwork issues we repair include: 
Gaps, Leaks, and Loose Connections: Improper sealing and shifting at duct joints allow air to escape. This makes your HVAC system work harder to maintain the temperature in your home and increases energy costs. Duct sealing will correct these issues and improve airflow.
Poor Design: Ductwork should be designed to work with your home for maximum energy efficiency. If there are too many bends or the right material isn't used, the system won't run as efficiently. Working with a professional to modify or replace existing ductwork is the best way to tailor the system to your home.
Improper Insulation: If air ducts are not insulated or insufficiently insulated, temperature-controlled air is lost. Proper insulation reduces energy waste and improves efficiency.
Dirt, Dust, and Debris Buildup: Ductwork naturally collects dust, germs, and dirt. Over time, too much buildup restricts airflow, increases energy costs, and reduces indoor air quality. Regular cleaning prevents buildup and helps your HVAC system run more efficiently.
At Cabrillo, we have the tools and experience to tackle your ductwork problems and improve your home's efficiency. Our team arrives with fully-stocked vehicles, ready to implement the most effective repair solution.
Keep Your Home Comfortable With Cabrillo
Since 1961, Cabrillo has been helping homeowners make the most of their indoor comfort. With innovative HVAC equipment, extensive training and a passion for our communities, we are prepared to keep your home comfortable all year long.
Whether you need help repairing or replacing improper ductwork, sealing leaks, or designing the right system for your home, we are here to help. Contact our team online today for convenient scheduling or give us a call at 415-360-0560