Learn More About Cabrillo
What do you look for in a service company? Honesty? Dependability? Reliability? All admirable qualities to be sure, but we believe the service company of the 21st century must provide more. Our clients demand the best, and being the best requires a commitment from every member of our team to meet, and even exceed our own high standards. Since 1961, we've set out to build lasting relationships with our customers, offer the greatest value with every service, and grow alongside the newest generation of homeowners.
What Sets Us Apart
At Cabrillo, we're not content with being just an honest, dependable company. Far from it. We'll stop at nothing to ensure your satisfaction, even your delight, with every point of the service experience. Our goal is to astound you and leave you with the knowledge and assurance that you've chosen the right company for your home service needs.
We believe in staying on top of the latest HVAC and plumbing trends to offer only the best products and services available. The San Francisco Bay Area is constantly expanding, adapting, and innovating. We love calling this area our home and strive to always go above and beyond to connect with our local neighbors and provide service that meets their modern needs.
Our History
In 1957, Abraham Kent opened up a small hardware shop called Cabrillo Hardware and Plumbing Supplies. In 1959, in need of more space, Cabrillo moved to the Sunset District.
Glimpsing into the future, Mr. Kent decided to change his focus. He started out by obtaining his Plumbing Contractor's license in 1961. By 1963, he had closed the hardware part of his business and substituted it entirely with plumbing repair and remodel services. In June of 1976, Mr. Kent's son Michael took over the business.
With plumbing as a focus, Cabrillo steadily grew throughout the years. In September of 1990, Cabrillo decided to join forces and merge with Meehan Plumbing, run by Jeff Meehan. In 1994, Cabrillo Plumbing and Heating elected to join Nexstar, Inc., a progressive plumbing and heating organization. Just two years later, in 1996, the Nexstar group voted Cabrillo Company of the Year for achieving the number 1 ranking nationwide in customer service.
Today, Cabrillo has operations centers in San Francisco, the Peninsula, the East Bay, and surrounding areas. We're easy to recognize in our stylish service vehicles and clean all-white uniforms.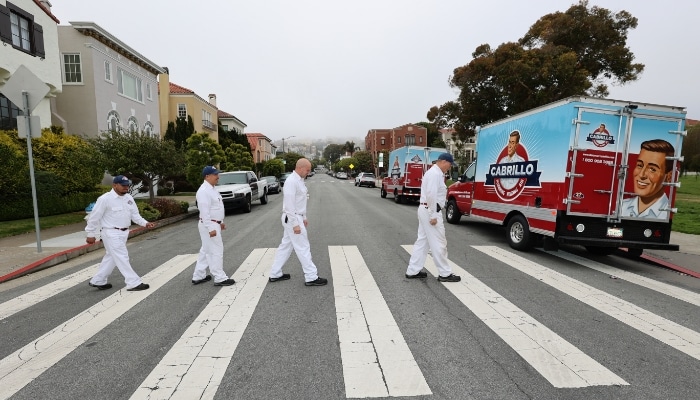 Experience First-Class Service
When you choose Cabrillo, your service begins with our professional Customer Service Representative working to schedule your service call at your convenience. It ends with a perfectly executed repair, installation, or maintenance call and a hassle-free in-home experience.
In between, you'll be kept informed of the schedule by our dispatch department. Your technician will arrive in a fully-stocked vehicle that enables them to complete a majority of jobs in just one visit. They'll be dressed in a clean white uniform and will protect your floors with surgical shoe covers and a Cabrillo floor mat. They'll take their time diagnosing your problem and charge by the job, never by the hour.
If you've never used Cabrillo before, you'll be pleasantly surprised to find that service in your home doesn't have to be a hassle. We'll go out of our way to make sure you're delighted with every aspect of your experience.
For first-class service, call Cabrillo 24/7 at 415-360-0560 !