Professional Electrician Services Near San Francisco, CA
Keeping your San Francisco home safe is at the top of our list. That's why we offer residential electrical contractor services to ensure you have the power you need, everywhere you need it. Whether you're looking for greater convenience with an EV charger or it's time for an electrical panel upgrade, we're here to help. Our electricians deliver quality with every service, tailored to your home's unique power needs.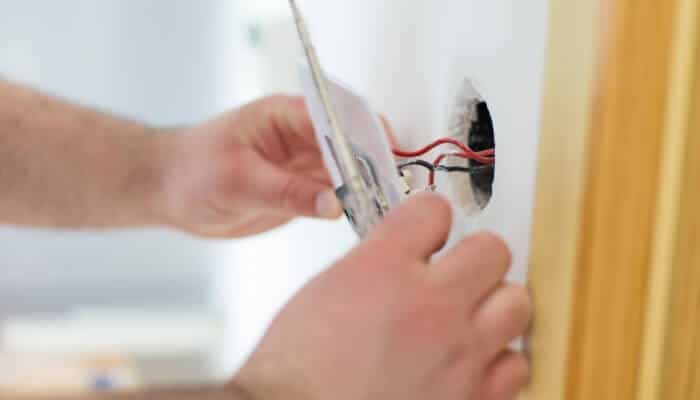 Residential Electrical Services
The Menlo Park and San Francisco area housing market is constantly growing and adapting to meet the needs of new homeowners. You need an electrician that keeps up with new trends and will understand your home's unique electrical setup and needs.
If you live in an older home with outdated power systems, we'll help you upgrade when necessary to power your home safely without interfering with its individual charm. Even newer homes in the Bay Area can have unique setups that require a professional. We work with all types of homes and know the ins and outs of what makes them different.
Our home electrical services include:
Lighting Installation & Repair
Ceiling & Attic Fan Installation
Electrical Inspections, Wiring & Rewiring
Backup Emergency Generators
Phone Electrical Wiring
Electrical Panel Upgrades
Breaker Box Wiring
EV Charging Installation
TV & Sound System Wiring
Whole-Home Surge Protection
Outlet Installation & Repair
Thermal Imaging
And More!
When Should You Call an Electrician?
Reliable power is more than a modern convenience; it's an essential part of keeping your home safe and comfortable. From cold food storage to running you air conditioner during the summer, having safe electricity year-round is a necessity.
When any part of your electrical system fails, it can have a major impact on your day. Whether the issue needs a simple repair or a full replacement, a professional electrician will help restore your power and comfort safely and efficiently.
Signs you should call an electrician:
If you notice flickering lights, faulty switches or outlets, and frequent power outages.
If there aren't enough outlets in your home, requiring multiple extension cords and power strips.
If the circuit breaker frequently trips or it's time to upgrade your electrical panel.
If there is a burning smell or smoke from outlets, or if they are hot to the touch.
If you are looking to install new outlets, lighting, or EV chargers.
Anytime a home improvement project involves power, precaution is key. Working with a professional electrician ensures your new installation, replacement, or repair is carried out safely and in compliance with local and national electrical codes.
Keep Up to Date With Cabrillo
Ready to bring the future of fueling to your home garage? Installing an electric vehicle charger helps you make the most of your car with convenient charging right where you need it. Charge your electric car overnight at home to ensure it's always ready to go, without the hassle of finding a crowded charging station.
We're passionate about helping you take advantage of the newest electrical technology for your home. If you never seem to have enough power or your circuit is overloading, we'll help you upgrade to a new electrical panel. Replacing your outdated system protects you from electrical and fire hazards while providing more reliable power that meets the electrical demands of your home.
Whether you're ready to start a new electrical project or dealing with a power issue, our electricians are here to help. Give our team a call today at 415-360-0560 for questions and scheduling!