Heat Pump Powered Water Heater For Your San Francisco Home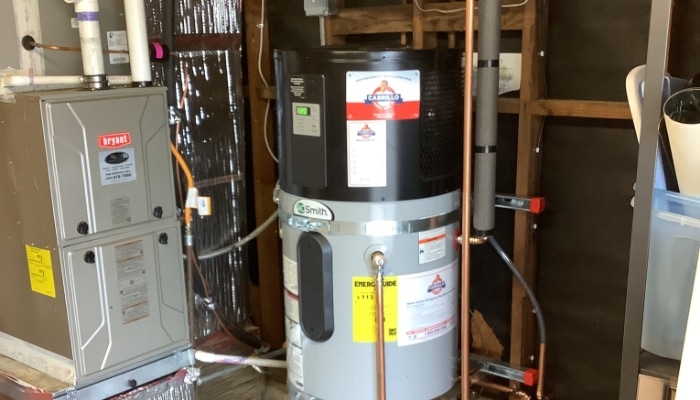 As California continues to move to a more electrified state, heat pump water heaters are becoming increasingly popular for their power efficiency and ability to use our warm climate to heat your home's water supply. Traditionally those homeowners with heat pumps use them to heat and cool their homes, but we are now utilizing them as a solo water heater or supplemental heat in bigger homes and multi-unit buildings.
Homes equipped with solar systems make this process even more efficient but using your clean generated power to produce the power to run the system effectively costs you nothing to maintain the hot water in your home. For full services including installation and maintenance of heat pump powered water heaters, turn to the pros at Cabrillo Plumbing today. 
What Heat Pump Water Heater Is Right For My Home?
If you are ready to start preparing your home for a heat pump water heater installation, here are a few things that Cabrillo considers when determining your best options for a heat pump water heater. 
Sizing and First Hour Rating: Knowing the number of bathrooms, flow rates to water using fixtures, tub capacities, laundry, and dishwashing appliance usage rates helps to determine the size heat pump you will need. 
Electrical Considerations: Is there enough room in your current breaker panel to supply power to the heat pump water heater in most cases, a breaker and dedicated circuit are required to meet code in most local jurisdictions. 
Air Volume and Supply: Heat pumps use heat energy from the surrounding air to heat the water inside the unit. If your current water heater is in a closet, ductwork or vents will be needed to supply the unit with outside air to work efficiently. If the unit is in an open garage, you may have plenty of air to begin with.
Mixing Valves and Supply Water Temperature: Heat pumps work even more efficiently when paired with a mixing valve to supply a building with hot water. Depending on the building size and type of water use, mixing valves can help increase the volume of heated water that is ready to be delivered to the building.
Energy Efficient Hot Water Solutions For Your Home
Heat pumps allow California homes to become more energy efficient and carbon neutral by supporting a clean and responsible way of delivering hot water to our homes. This quick overview is just a taste of the benefits of a heat pump water heater. To learn more about heat pump water heaters, or to schedule your free installation estimate, connect with the team at Cabrillo Plumbing today!