AC Installation & Replacement Near San Francisco, CA
Case studies have shown that most new air conditioning units installed only reach about 60% of their efficiency standard due to improper installation. The most important day in the life of your new system is the day it's installed. So whether you need a new air conditioning unit to replace your old failing one, or are just looking to upgrade, call the experts at Cabrillo. We'll keep your San Francisco or peninsula home cool.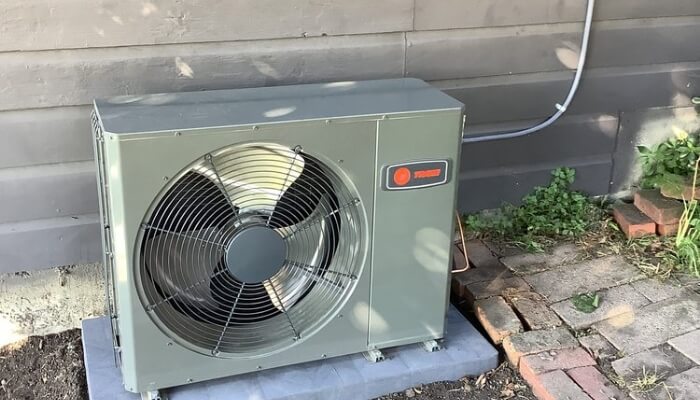 Signs It's Time for a New Air Conditioner
Like every home appliance, your AC will eventually reach the end of its lifespan and need to be replaced. Scheduling seasonal maintenance and staying on top of minor repairs will help your system last as long as possible and keep you in the know about how it's operating.
It may be time for a new AC if:
Your unit is over 20 years old. On average, air conditioners last about 20-30 years. After the 15-year mark, it may run into more repairs and lose efficiency. After the 20-year mark, it's usually more cost-effective to replace your system rather than continue making repairs.
You run into frequent AC issues and repairs. If you're air conditioner always seems to have trouble operating as it should, it may be time for an upgrade. Newer systems facing frequent problems may be a result of improper repair, but older systems that require multiple fixes should likely be replaced.
The unit uses an R22 refrigerant. As of 2020, the manufacturing of R22 refrigerant is banned due to new environmental standards. If your air conditioner relies on this component or other outdated equipment parts, repairs and maintenance become less feasible. Upgrading to an environmentally friendly model helps you save and prevents roadblocks when you run into issues.
Energy bills are rising without explanation. If your monthly cooling costs are through the roof but there hasn't been a noticeable increase in your AC usage, your system may be reaching its end. As your system ages, it will work harder to compensate for decreased efficiency and increase your payments.
If you're unsure whether it's time to replace or repair your AC, the best route is to work with a professional. Our expert technicians will inspect your unit and go over your options to make the best decision for you and your home. We also install brand-new first-time units when you're adding on to your home. We'll help you find the right system for your budget and energy demands and get it put in properly the first time to last for years to come.
Why Choose Cabrillo to Install Your New AC?
Our certified technicians have years of experience installing air conditioning units.
We'll ensure your new unit is installed properly to meet efficiency standards.
We'll help you find the best unit for your home's specifications.
100% customer satisfaction guaranteed.
Make sure your new air conditioning unit is properly installed by professionals. Call Cabrillo today at 415-360-0560 and find the right unit for your space prior to installation by our certified technicians!