Heater Installation & Replacement Near San Francisco, CA
There are many reasons you may need or want a new heating system for your San Francisco area home. Your old system may be reaching the end of its lifespan (15+ years old), or you just may want to install a new more efficient system. Whichever it is, Cabrillo will take care of all your heating installation needs. If you're not sure which new heater, furnace, or heat pump is right for you, we'll consider your home's unique needs and help you find the right fit.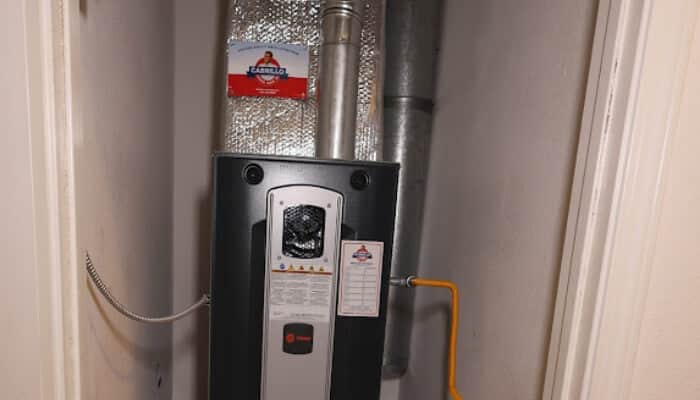 We Install All Types of Heating Systems
When you're ready to upgrade your heater, there are many options and they can be quite confusing. The experts at Cabrillo will help you decide which one is best and we'll install it properly for you, ensuring it meets efficiency standards. We don't believe in one-size-fits-all solutions, so we offer the installation and replacement of many systems to keep your home warm.
We install and replace:
Gas Furnaces
Heat Pumps
Gas Packs
And More!
When Should You Replace Your Heater?
If you're unsure whether your heater, furnace, or heat pump is in need of repair or replacement, there are several important factors to consider. Age, wear, and tear all play a part in whether it makes the most sense to continue fixing heating issues or upgrade to a new system.
Signs it may be time for a replacement:
Your heater or furnace is more than 15 years old. On average, furnaces can last up to 20 years if they are properly maintained and tuned up seasonally. Addressing small repairs as soon as they're discovered can also extend the lifespan. After 15 years, you'll want to weigh the pros and cons of spending more money on repairs versus upgrading to a new system.
You're looking to upgrade your energy efficiency. Over time, your furnace or heater will lose efficiency, and have to work harder to keep your home comfortable. You may notice an increase in your monthly utility costs as a result. Upgrading to a new system like an energy-efficient heat pump will lower energy costs and provide more reliable comfort.
Your current system simply isn't cutting it. There are many reasons why your heater could be struggling to keep your home evenly warm. If you don't have the right-sized system, it's likely struggling to meet your family's energy demands. Upgrading to a properly-sized unit will ensure consistent warmth in every room.
You're facing frequent or costly repairs. If your current heater wasn't installed properly or hasn't been maintained over the years, you may deal with problem after problem. At some point, you may run into an extensive issue where a repair is possible, but not worth sinking the money into when you could upgrade instead.
Why Choose Cabrillo for Your Heating Upgrade?
Our technicians know that for your heating system to be set up for success, it must be properly installed from the get-go. Ensuring your new unit is safe, up to code, and working as soon as it's put in is key to making it last as long as possible. That's why we take the time to install your heater, furnace, or heat pump with expert care and test for proper operation.
If you have questions about whether it's time for a replacement or are dealing with a breakdown, give Cabrillo a call 24/7 at 415-360-0560 !