Hot Water Heater Repair Services Near San Francisco, CA
When your water heater breaks down or starts leaking, it's a big deal. Not only do you not have hot water, but your home is at risk of severe damage from leaking water. That's why Cabrillo is here for you 24 hours with water heater repair San Francisco CA can counts on.
Since 1961, we've been helping homeowners with small repairs and major plumbing emergencies to restore their comfort safely and efficiently. We service all over San Francisco and the Bay Area and always arrive with fully-stocked vehicles, ready to help.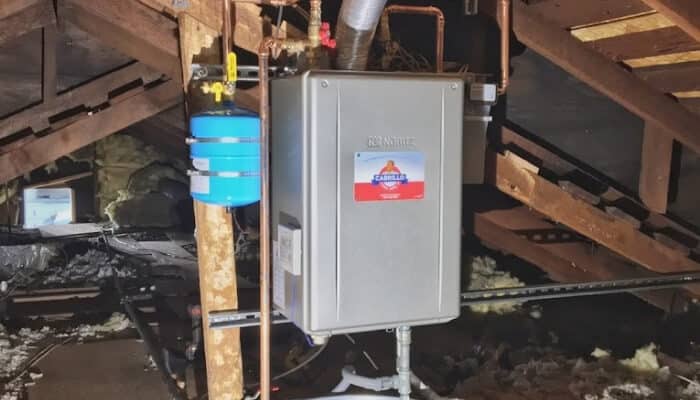 When Should Your Hot Water Heater Be Repaired?
Deciding whether to repair or replace your water heater depends largely on the extent of the problem. If your water heater is only a few years old and runs into a problem, a repair might make the most sense.
Here are some instances when you should consider water heater repair services:
Inadequate Hot Water: If you find that your water isn't getting as hot as it used to or you run out of hot water quickly, it's time to have your heater inspected. This may be an issue with a faulty thermostat or heating element.
Strange Noises: Unusual noises such as popping, banging or rumbling can indicate sediment buildup in the tank, which can reduce efficiency and lead to damage. A professional will check for and repair issues with the valves, sediment buildup, water pressure and other components.
Leaks and Drips: Any signs of a water leak around your water heater require immediate attention. Leaks may indicate an issue with the pressure relief valve or the tank itself. Ignoring leaks can result in costly water damage to your property.
Rusty Water: If you notice reddish-brown water coming from your taps, it could be a sign of corrosion inside your water heater tank. Rusty water heaters can be brittle and more susceptible to leaks, but can be repaired if the issue is caught early enough.
Fluctuating Water Temperature: Inconsistent water temperature can make daily tasks inconvenient. It may be an issue with the thermostat, heating elements or other components.
Pilot Light Problems: For gas water heaters, a pilot light that won't stay lit or keeps going out is a common issue. It can be due to issues with the thermocouple or gas supply.
When there's an issue with the water temperature, hissing, sizzling, or a leak from the pressure relief valve or water supply pipes, a repair is usually the best option. Our technicians will take a look at your unit and determine whether or not it would benefit most from a repair. They'll then review the solution with you and implement fast service to restore your hot water.
We Offer Expert Repair for Leading Water Heater Brands and Models Across the Bay Area
Our licensed technicians carry an assortment of parts and tools to handle any repair. Whether you have a gas or electric water heater, we're equipped from the get-go. We can complete most repairs in one visit so you don't have to worry about scheduling multiple trips.
We service all makes and models of traditional tank-style water heaters, including:
State: State water heaters are a staple for their performance and longevity. Our expert plumbers have the expertise to keep your State unit running smoothly.
Rheem: Trusted for their reliability and efficiency, Rheem water heaters are a popular choice. We have extensive experience to ensure your Rheem unit stands the test of time.
Ruud: An energy-efficient option, Ruud water heaters help homeowners save. Our services ensure your Ruud unit always operates at its best.
General Electric: Delivering quality and reliability, General Electric water heaters are a timeless choice. We have the tools and know-how to ensure smooth performance.
AO Smith: With a wide range of products, AO Smith water heaters fit any home. We know the ins and outs of every model to efficiently diagnose and repair any issue.
Bradford-White: Providing top-of-the-line traditional water heaters, Bradford White products deliver durability. Our fast repairs keep your unit running without a hitch.
We also service all makes and models of tankless water heaters, including:
Noritz: Noritz tankless water heaters offer durability and innovative technology that helps you save. We have the expertise to service and repair any Noritz model.
Rinnai: Long-lasting and energy-saving, Rinnai tankless water heaters built for quality. Our technicians are skillfully trained to get your Rinnai unit running again in no time.
Takagi: Takagi tankless water heaters are cost-effective and efficient. Our team of licensed plumbers is equipped to service and repair any Takagi unit.
Bosch: Touted for their reliability, Bosch tankless water heaters last for years. When your Bosch unit needs repair, we will get it back to peak performance.
Navien: Navian tankless water heaters keep your home comfortable and help you save. We have specialized knowledge to restore your Navien unit and get your home back to comfort.
Paloma: Balancing quality and performance, Paloma tankless water heaters save energy without compromising comfort. Our team is here to keep your Paloma unit running efficiently.
No matter the brand or age of your system, our experienced plumbers will troubleshoot the issue and find the most effective repair solution to restore your hot hater. Our commitment is to ensure that you have a consistent supply of hot water throughout your home. When you choose Cabrillo, you're choosing a team that can handle the full spectrum of hot water issues, giving you peace of mind that your Bay Area water heater repair is in capable hands.
Why Choose Cabrillo Plumbing, Heating and Cooling for Your Water Heater Repair Needs?
At Cabrillo, we've built a reputation for excellence in San Francisco water heater repair. Our commitment to customer satisfaction and technical expertise sets us apart. We guarantee exceptional service every time.
Experienced Technicians: Our team of highly skilled and experienced technicians is well-versed in diagnosing and repairing a wide range of water heater issues.
Prompt Service: We understand the urgency of water heater problems. That's why we offer fast response times, to address hot water failures as soon as possible.
Comprehensive Repairs: From minor fixes to major repairs, we have the knowledge and tools to handle all any water heater problem big or small.
Transparent Pricing: Honesty and transparency are always at the top of our list. We charge by the job, not the hour so you always know what to expect.
Preventative Maintenance: To help you avoid future breakdowns, we offer preventative maintenance services to keep your water heater in top condition.
24/7 Emergency Services: Water heater issues don't always happen at convenient times. That's why we offer 24/7 emergency repair services.
Licensed and Insured: Cabrillo is a fully licensed and insured company, giving you peace of mind that your repair is in capable hands.
Cabrillo Is Here for Your Comfort
When it comes to water heater issues, we know that time is of the essence. To avoid further damage to your system and protect your home from water damage, you never want to leave a problem lingering. At Cabrillo, we work to accommodate your schedule and address the issue as quickly as possible. You'll never have to worry about the time of day or night you run into hot water issues - we'll be here 24/7 at 415-360-0560 .